"Czech mentality suits me," says Erik Best
Commentator, publisher, and manager, all at once. Erik Best came to the Czech Republic 26 years ago, and although he does not consider himself a journalist, he remains a notable person when it comes to unconventional and challenging opinions.
Why Prague? It was because of luck, and because Erik Best finds the mentality of Czech people close to his own. "Czechs are kind of cynical, but it's a healthy cynicism; it's from experience. When I complain about something in the Czech Republic, it's generally the same thing Czechs are complaining about."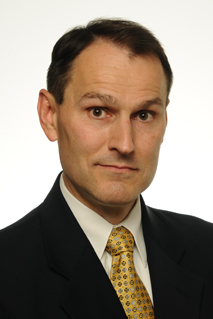 Erik Best began issuing the Fleet Sheet in 1992, and his daily summaries of Czech political and economic news are still in demand to this day. Best himself describes his work as "partly journalism, partly management and partly analysis". He runs a small team, and even though it is, as he says, hard to make money in the current changing media environment, readers seem to appreciate the product. Among the Fleet Sheet subscribers are English-speaking politicians, journalists, business people, and diplomats, who do not have the time or language skills to follow Czech media themselves.
The Fleet Sheet was later accompanied by a short commentary called the Fleet Sheet's Final Word. The idea behind it was very pragmatic at first: There was a need for more advertisements. However, it soon became a way to express thoughts that could not be placed on the main news bulletin.
The inspiration for the format of the Final Word is unique. When I asked about it, Mr. Best said simply: "Let me show you," and reached for his bookshelf. He handed me a book by rock-music critic Robert Christgau.
"Christgau wrote short reviews of musical albums, all about the size of Final Word. His style influenced me the most," explained Erik Best. "He gives a letter grade, so it's very clear what he thinks."
That is what Mr. Best and his team try to achieve with their Final Word. "We try not to be too ambiguous, and the readers appreciate it, even when they don't agree with our opinions."
Text vznikl v rámci kurzu Angličtina pro žurnalisty pod vedením Mgr. Aleny Proškové.
Foto: www.fsfinalword.cz